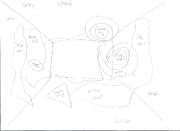 The fifth swell, also known as "The Aurora," is the fifth layer of the sky or swell that contains the Estellion Sky Empire and various other sky islands and nations. It is the central location for the Era of the Admirals and exists between 270 and 420 km above ground level.
Also known as the Five Auroras. Each Aurora is comprised of Sky Continents.
Further information: List of Sky Islands
Notes
Our World: Western Hemisphere-North America-Country(USA)-Midwest-State(Missouri)-County(Saint Louis County)-City/town (St. Louis)
Swells: Sky Sector (Central Aurora) Empires (Estellion)-Sky Continent (Northern Ring)- Sky Region (North Arc)-Sky Island System (Dragon's Peak's System)-Sky Island(Dragon's Peak itself)
Any further divisions are different from island to island.
Community content is available under
CC-BY-SA
unless otherwise noted.